Join a virtual conversation on what it means to maintain our local decision rights
Use this easy form to reach out to your town leaders. Engage them in this fight
Zoning is on the Ballot in November!
Freedom is Never Free
The zoning bill HB6107 hollowed out the existing protections for historical by eliminating the consideration of "character" – which truly honored the uniqueness of every one of our 169 towns in CT. HB6107 removed considerations for maintaining property values and considerations for the over densifying environmentally sensitive areas of communities. In the last two years we have seen the onslaught of predatory development with developers tearing down naturally occurring modest single family homes in more affordable neighborhoods to develop RENTALS ONLY units. (Will not create generational wealth.)
* Only the Democrats continue to propose onerous bills to take away local decision making on planning and zoning.
* Only the Democrats with an almost 2/3 majority, block the Republican bills proposed to reform 8-30g.
* Only the Democrat State Senators, the YEAS in GREEN, voted in favor of HB6107 in 2020. If you value your individual rights and your town's local zoning decision making, VOTE THEM OUT IN 2022!
The handful of Democrat State Reps in Green that voted NO were from highly competitive election races. We had a CT169Strong supporter receive an email from one Democrat legislator who stated they have to hear from their party leadership when they have permission to vote no on any proposal! We also know of at least one Democrat legislator in YELLOW (absent and not voting) that was onsite during the vote, but "took a walk" while the vote was happening, so she would not be on record as voting on the bill either way. Absolute power corrupts absolutely. Bring checks and balances back to the State House, VOTE REPUBLICAN!

ROUND 1: STATE SENATORS.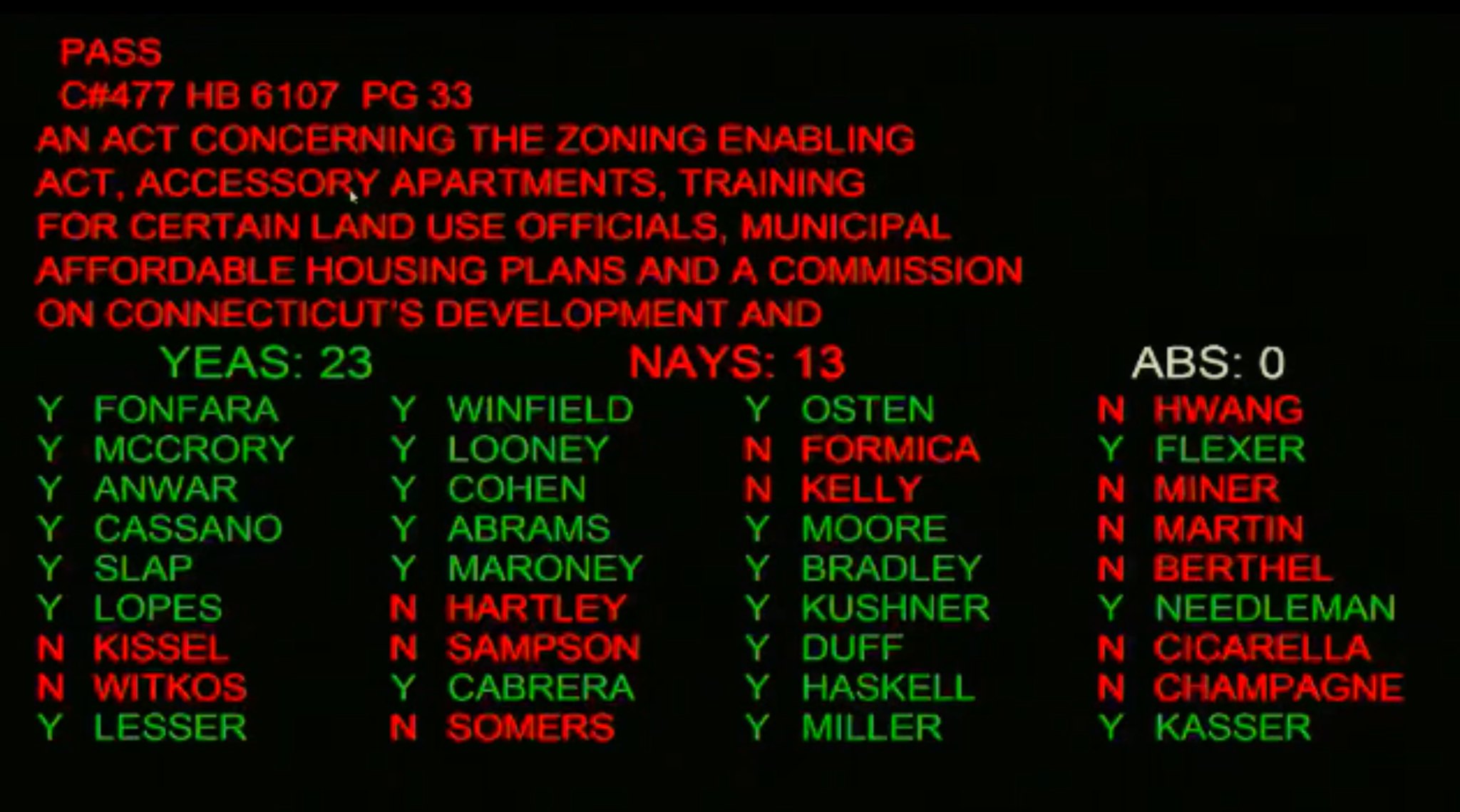 ROUND 2: STATE REPS.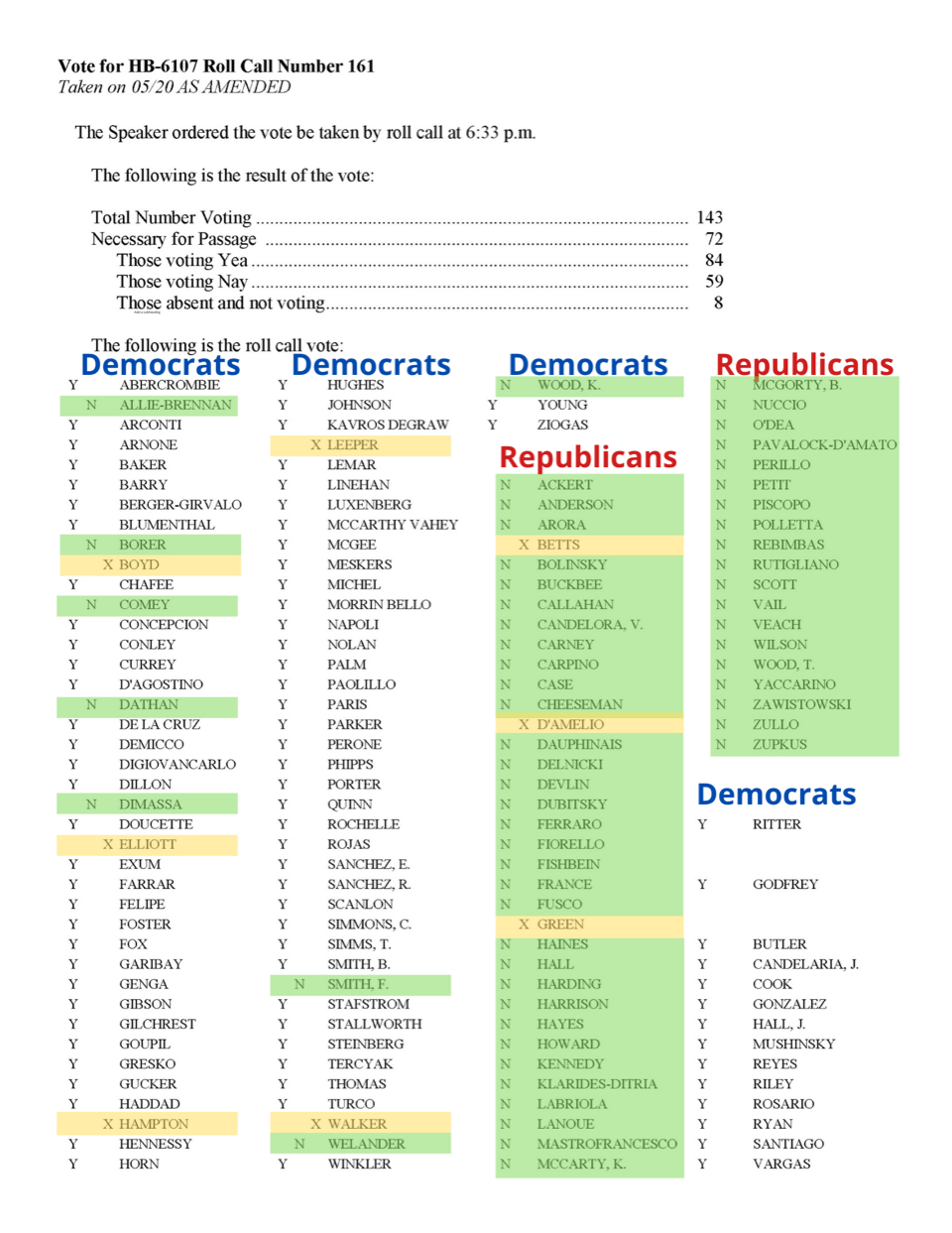 READ THE DESEGREGATECT BILL HB5429
AND OUR CONCERNS
INCLUSIVITY STARTS BY ENGAGING ALL STAKEHOLDERS TO ENSURE PROPER NUANCED ZONING AND AFFORDABLE HOUSING RECOMMENDATIONS ARE MADE
WHY IS HB5429 SO BAD?
It does begin to take away local decision making, it is a foot in the door.
*
It does not address the shortcomings of 8-30g.
*
It does not have adequate representation from P&Z and Housing Authority leaders from municipalities statewide of all different sizes.
LOCAL DECISION RIGHTS OR HARTFORD POLITICIANS AND BUREAUCRATS
Why would we trust Hartford politicians and bureaucrats to care more about our town and city's people, traffic, environment, and future, than we do ourselves?
Who decided that our local decision making wasn't good enough? Why would local municipalities trust the state legislature or the largest cities in Connecticut when they have mismanaged the state for decades.
How can they look into hearts of residents and condemn us all as racists, which is one of the most egregious accusations to make against a person?
WE MUST MAINTAIN OUR DECISION RIGHTS OVER LOCAL LAND USE AND ZONING IN OUR TOWNS AND CITIES. ​
WE TRUST OURSELVES AND OUR NEIGHBORS TO CONTINUE TO EXERCISE LOCAL INTEGRITY.
Hartford politicians and bureaucrats are actively pursing a takeover of the local land use and zoning rights of our 169 towns and cities. See what your neighbors are writing. We need your letters too!